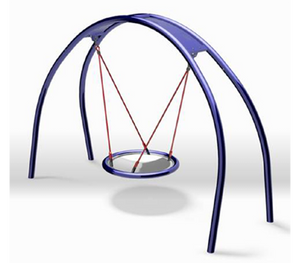 Single Orb Swing
Play & Park
SKU: BT-205
Regular price $9,480.90 Sale
Swinging and spinning provide stimulation for proper development of balance and coordination in young children.
Not CPSC
Age Groups: 5-12 years
Use Zone: 28'0" x 23'7"
Fall Height: 8'0"
Activities: 1
Capacity: 1
Weight: 990 lbs
About Installation: America's Fence Store recommends a certified Play & Park Structures Installer is hired for play equipment installation. Customer shall be responsible for scheduling coordination and site preparation. Site should be level and permit installation equipment access. Purchaser shall be responsible for unknown conditions such as buried utilities, tree stumps, bedrock or any concealed materials or conditions that may result in additional labor or material costs.
Warranty Information: https://www.bigtoys.com/about/our-products/warranty/