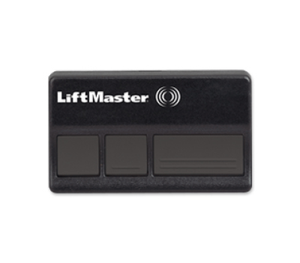 3-Button Remote Control
Liftmaster
SKU: 373LM
Regular price $42,825.00 Sale
Get additional access and security with our 3-button remote control. Use it to open and close 3 garage doors or gates. 
Performance
Program up to three Garage Door Openers or Gate Operators.
Safety and Security
Safeguard your household with Security+®, which sends a new code every time you click your remote control.
Compatibility
Compatible with LiftMaster® Security+ Garage Door Openers, Gate Operators and Commercial Door Operators.
LiftMaster Garage Door Openers with purple Learn button on the motorhead, or
LiftMaster Garage Door Openers with a purple antenna on the motorhead, or
LiftMaster Garage Door Openers with Remote Controls that have silver buttons and glowing blue lights, or
LiftMaster Garage Door Openers with Remote Controls that have black buttons and this logo: